St. Marcus School was founded in 1872 and has remained an anchor in an ever-changing neighborhood, one mile north of downtown, Milwaukee. The school joined the Milwaukee Parental Choice Program in 1998, and began to grow beyond its capacity. The school's driven leadership propelled a vision to create one of the best Christian urban schools in America by combining the power of the Gospel with a rigorous, no excuses philosophy of education.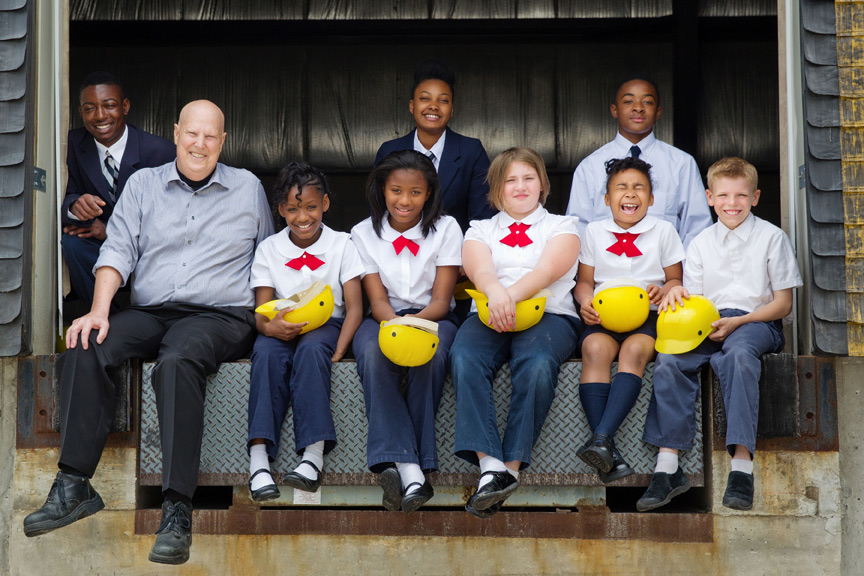 Bruce Krier with students from St. Marcus Lutheran School
St. Marcus currently serves over 900 students in K3-8th grades between two campuses (Main and North) located a mere four blocks apart. Over the past decade, St. Marcus has more than doubled its campus size and enrollment. This growth can be attributed to parents demanding a high-quality education for their children. 96% of students are enrolled in the Milwaukee Parental Choice Program (MPCP) and perform among the very highest levels in the City of Milwaukee. Through the MPCP, regardless of income, Milwaukee parents have the unique privilege of choosing the best school for their children. State funding (vouchers) are provided for those families that qualify for the "Choice" program, allowing families to send their child to a private school. The remaining 4% of families pay tuition to attend. The growth potential for St. Marcus is unlimited because currently the need exceeds the schools ability to serve, which is evidenced by the continuous waiting lists for enrollment.
Bruce Krier was a partner and supporter of this growth. Over the year's Bruce's involvement and support grew as he saw the need to serve more children. Bruce lived to see his legacy in action with the expansion of St. Marcus School's Main Campus and building of the "green" Krier Center. During his last years, Bruce established college and high school scholarship funds for deserving St. Marcus students. Countless families, teachers and causes were recipients of Bruce's humble and mostly silent support. Symbolically and literally, Bruce planted trees under whose shade he did not expect to sit. Students are those shade trees just beginning to grow.
In carrying out Bruce's philosophy and legacy, the Bruce Krier Foundation is a proud supporter and partner of St. Marcus School.
To learn more about St. Marcus School visit: their website.